Save the Date for the Grand Finale! Saturday, October 13, 2018 - Moores Cancer Center at UC San Diego Health
After 25 years of celebrating the annual Bruce Gorder 5K Walk for Melanoma at UC San Diego Health, this will be our grand finale. Thank you to the thousands of attendees over this past quarter century. We would also be remiss not to share our profound gratitude to Charles F. "Chuck" Gorder, the founder of the walk, who passed away in November 2017. Join us to celebrate Chuck, his wife Rhona, the Gorder family, and the many families who have supported the melanoma program at Moores Cancer Center these past 25 years.
Melanoma is the most deadly form of skin cancer. It begins in a type of skin cell called a melanocyte. As part of the tanning process these skin cells produce large amounts of skin pigment or melanin to help protect the skin from burning. Although it accounts for only about 5 percent of all skin cancer cases, melanoma is the leading cause of all skin cancer-related deaths – nearly 80 percent. Melanoma can appear suddenly as a new mole, or it can develop slowly in or near an existing mole. In men, melanomas are often found between the shoulders and hips or the head and neck area. In women, melanomas often develop on the lower legs as well as between the shoulders and hips.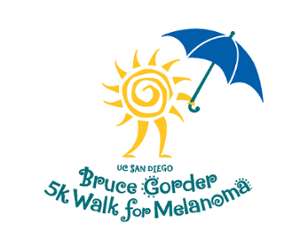 UC San Diego Moores Cancer Center