Bruce Brunner Gorder
1955–1992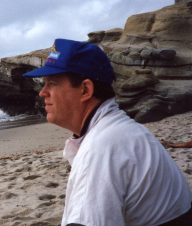 Bruce Brunner Gorder was just 37 when he died from melanoma leaving behind a young wife and three year old daughter. He battled the disease for seven years and when all else failed, selflessly submitted himself to pioneering research in the hopes of helping others.
Today, the legacy of Bruce and others like him who have fought the deadly disease lives on. Survivors and family members participate together in the annual walk to create awareness, promote research, and unite the community in hope that one day, the battle against melanoma will be won.
To date, in its 21st year, the Bruce Gorder 5K Walk for Melanoma has raised more than $1.3 million towards melanoma research at UC San Diego Moores Cancer Center.