Ron Murphy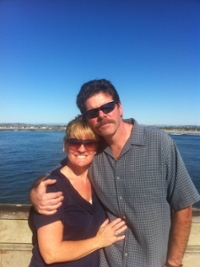 My name is Dani Murphy. The Bruce Gorder Walk for Melanoma Awareness was an event I originally began attending because it was a fun way to spend the day and, at the same time, support a great cause. 
A few years later it became personal. My husband, Ron Murphy, an incredibly strong and healthy 47 year old, was diagnosed with melanoma. A year later, on Valentine's Day 2012, he passed away. 
Ron, a high school teacher and football coach would say, 'this wasn't in the game plan.' In the midst of grief and everything else that comes with the loss of a loved one, I was faced with the process of finding a new normal and a sense of purpose. I didn't know where to start or how to do that, but I knew I wanted to be part of something that could make a difference. Meeting Chuck and Rhona and being welcomed on the event's organizing committee was exactly what I was looking for. 
The entire Bruce Gorder committee, the community and the participants create an environment of togetherness where raising awareness and support is everyone's common goal.